Member Countries of the EU:
Austria, Belgium, Bulgaria, Croatia, Cyprus, Czech Republic, Denmark, Estonia, Finland, France, Greece, Hungary, Ireland, Italy, Latvia, Lithuania, Luxembourg, Malta, Poland, Portugal, Romania, Sweden, Slovakia, Slovenia, Spain, The Netherlands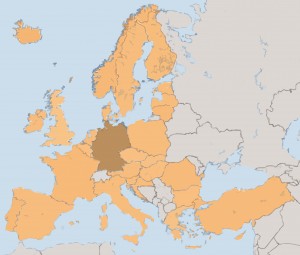 Program Countries outside of the EU:
Iceland, Liechtenstein, North Macedonia, Norway, Serbia, Turkey, United Kingdom (until May 2023).
Partner countries 2021: worldwide, but only eligible for funding to a very limited extent. Please contact us for further information.
Attention: Information regarding the United Kingdom (valid since 01/01/2021)

For a stay in the UK, ERASMUS+ trainees need a Temporary Worker-Government Authorized Exchange visa - T5 (cost: £ 244 - Germans receive a discount of £ 55 - plus NHS surcharge of about €800).
To be able to apply for this kind of visa, trainees must have a Certificate of Sponsorship (CoS). If your employer is not authorized to issue a CoS, it can be issued by the British Council for ERASMUS+ traineeships.

In the latter case, the EU-ServicePoint is responsible for applying for the CoS at the British Council, not the individual student. This has to be done ten weeks before the start at the latest (Source: https://eu.daad.de/service/was-noch-bewegt/brexit/de/77316-hinweise-zum-brexit--erasmus-und-das-vereinigte-koenigreich/).
The Certificate of Sponsorship is a reference number which includes details of the receiving organisation and the personal data of the trainee and is valid for three month from the date of issue.
It takes about two to four weeks after all documents have been submitted until the reference number is issued and you can use it to apply for a visa.
You can find here which documents you need to submit for the Certificate of Sponsorship application: Guide for CoS-Application
So, please mind the longer administrative processes and the additional costs if you are considering a traineeship in the United Kingdom.