Member Countries of the EU:
Austria, Belgium, Bulgaria, Croatia, Cyprus, Czech Republic, Denmark, Estonia, Finland, France, Greece, Hungary, Ireland, Italy, Latvia, Lithuania, Luxembourg, Malta, Poland, Portugal, Romania, Sweden, Slovakia, Slovenia, Spain, The Netherlands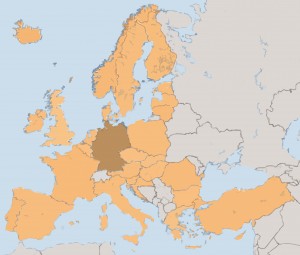 Program Countries outside of the EU:
Iceland, Liechtenstein, North Macedonia, Norway, Serbia, Turkey.
Partner countries: Worldwide, but only eligible for funding to a very limited extent. Please contact us for further information.
Attention: Traineeships in the United Kingdom
Please note that since Brexit you usually need a visa for internships in the UK, which means additional organizational and financial effort. Please contact the receiving institution directly if you have any questions about this.
Please also note that since March 2023 we are no longer able to apply for the so-called Certificate of Sponsorship (CoS) for you at the British Council, which you need for the visa application. If your employer is not authorized to issue the CoS, it is possible that you will not be able to obtain a visa for your stay.